Near Chumphon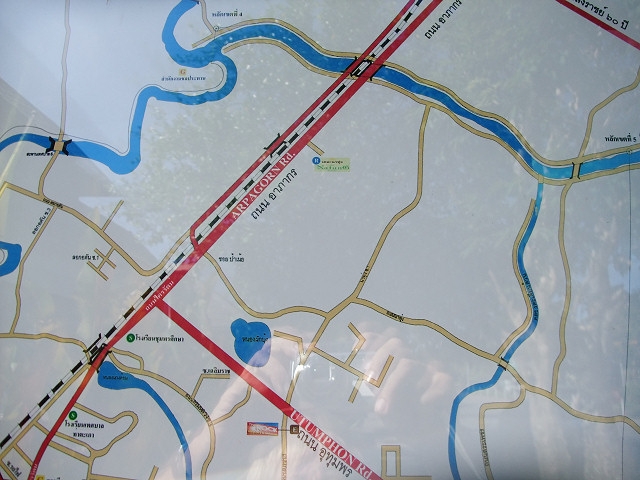 Chumphon
---
Destination:
Chumphon
---
---
| | |
| --- | --- |
| Total Page Views for Chumphon: 88,480 - Views this week: 88,480 | |
The lively provincial capital Chumphon (also written Chumporn, spoken: Choom-pawn), population: 56000, is located 506 km south of Bangkok, 7 km from the sea.



The name derives from "chumnumphon" which can be vaguely translated as "friendly meeting place". For Thai people Chumphon is renowned as the "gateway to the south".


The city itself offers interesting shopping places with very moderate prices, for instance several unique clothes shops in the back roads of Saladaeng Road and the markets and market halls ("bazaar") as well. There is also the night food market located on Krom Luang Road that starts at dusk and attracts many people for its fantastic food.
The province of Chumphon is mainly affected by the southwest monsoon, but the northeast monsoon has an impact as well. That is why the Tenasserim Mountains have recorded the second highest level of rainfall in Thailand. Although there is much less rain in the plains, the city was hit several times during the rainy season (especially in August/September) by severe floods coming from the mountains and reached nearly 2 meters.
| | |
| --- | --- |
| Park | |






ชายหาดที่เงียบสงบ หาดทรายรี
คาบาน่า






The Beaches of Chumphon
What attracted us first to Chumphon province where the beautiful, even spectacular beaches. Today about ten beaches are somewhat developed and offer accommodation in a lower medium price range.



Many years ago:
Arriving at Chumphon Cabana next to Thung Wua Laen Beach in a late afternoon of the year 1986 with our VW campervan, we were welcomed with garlands placed around our necks. The staff applauded and shouted: "The winners! The winners!"
We were quite a bit surprised about this very special reception, but just enjoyed this new found popularity.
A few minutes later a Toyota Landcruiser with a rooftop tent entered the premises and Miss U-Pin, the front office manager solved the riddle:
A motorcade from Bangkok arrived this very evening after a rally along the coast of Thailand. They spent the night at this beach resort which was in those days already very popular among the locals, long before a few enterprising farangs detected the beach as a superb holiday destination.
We became friends with the staff and the owners. As a token of their appreciation they offered a special discount for all the tourists who would later arrive carrying our Thailand Travel Guidebook by Stefan Loose Publications.










| | |
| --- | --- |
| Cave | |
| | |
| --- | --- |
| Coffee House | |
| | |
| --- | --- |
| Chinese Restaurant | |
| | |
| --- | --- |
| Italian Restaurant | |
| | |
| --- | --- |
| Vietnamese Restaurant | |
| | |
| --- | --- |
| Travel Agency | |
| | |
| --- | --- |
| Travel Agency | |
| | |
| --- | --- |
| Tour Counter | |
| | |
| --- | --- |
| Transport | |
| | |
| --- | --- |
| Tour Counter | |
| | |
| --- | --- |
| Tour Counter | |
| | |
| --- | --- |
| Rates from 490 to 2000 Baht | |
| | |
| --- | --- |
| Rates from 440 to 2500 Baht | |
| | |
| --- | --- |
| Rates from 160 to 180 Baht | |